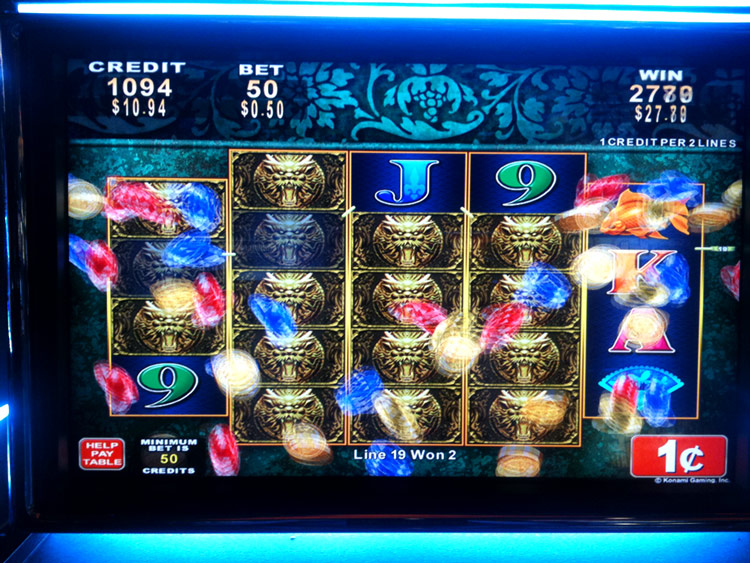 Day #2 of our little Palm Springs gambling expedition and we have a winner! On our way home from the old Sinatra stomping grounds our last stop was Morongo Casino. After a few hours of up and downs on the penny slots my parents had to leave to start their 2 and a half hour drive back up the the other desert, Antelope Valley. Don't be fooled by the name. There's no Antelopes there and no greenery to support them … all desert. I digress. Wandering the casino alone, listing to all the bells and chimes of the machines and the chip clatter from the tables, I stop at a machine called 50 dragons and get set to pull my wallet from my pocket when a little old man cuts right in front of me and drops a $10 bill into the machine. Secretly praying for him to go broke on that machine I begrudgingly set up post on the machine directly to the right of him, also a 50 Dragons game. No sooner than 8 pulls or so later my screen fills with dragon faces and starts pouring out flying gold coins. A quick $66 and some odd change win. I tell the little guy next to me thanks, hit the cash out button and walk away with a nice triple up on cash.
The moral of the story is that sometimes an asshole can turn out to be just a speed bump in your road to riches … or in my case, gas money.
Camera: iPhone 3Gs
Focal Length: —
Shutter: —
Aperture: —
ISO: —
Tip: Despite being one of the most awesome inventions ever, the iPhone 3Gs is not the best camera in the world. I know, shocker!