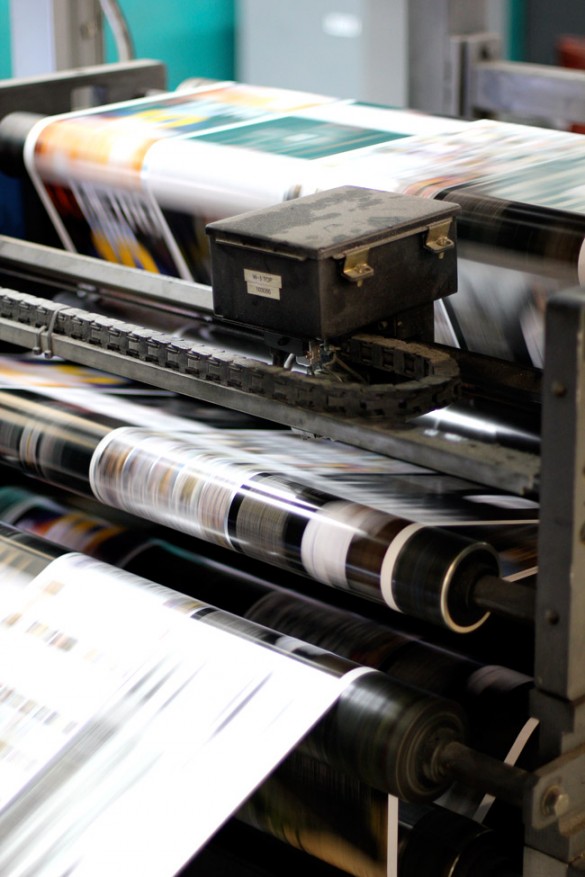 The smell of fresh ink on damp pages. The whipping sounds of paper flying between junctions. Quite the sight to behold. Running a press check for OCMETRO's 20th anniversary cover gave me a great opportunity to take some shots around the facility. Luckily the guys on the floor gave me free reign of the area to express my creativity. This shot in particular was the cover passing by the registration check right before entering the heaters to dry the ink. The little box attached to what looks like a bike chain is actually a small camera that slides left and right taking images of the registration marks and sending the information to the press check station so they can make any necessary adjustments. Pretty rad to see the process if you're a geek like me. From my brain, through the interwebs, burned into a plate and finally filled with ink and set to stock.
Focal Length: 50mm
Shutter: 1/60
Aperture: f/1.4
ISO: 100
Notes: Wanting to keep some visual of motion I used a medium shutter speed for the situation. Normally a 1/60 shot would "freeze" the frame, but since these presses were running by at such a high speed a setting of 1/300 would have been more likely to completely stop the presses.
Tip: Simple adjustments to shutter speed can have some drastic effects on your shots, depending on what you're shooting.