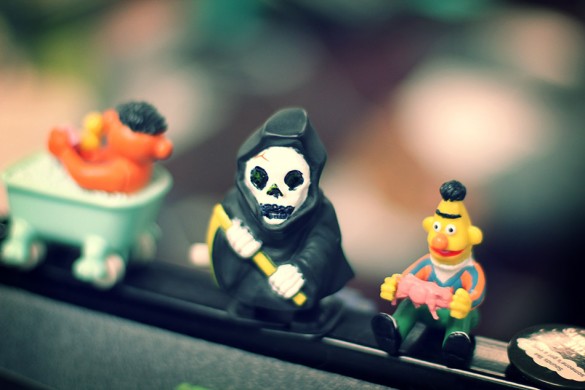 The struggle. Deadline week. Long days, short, sleepless nights. With little more than @Brand_One's cubicle-encroaching desk flair to keep me company in the empty office I forge ahead with my layout designs and ad maintenance, you know the fun, busy work stuff. Watching Office Space on the flat screen helps to pass the time with familiar quotes of filler background noise as my design crew taps out one-by-one to head home to their comfy pillows. I endure, possibly out of foolishness, but endure none the less. The blog must go on …
Joanna: I dunno, it just seems wrong.
Peter Gibbons: It's NOT wrong. INITECH is wrong. INITECH is an evil corporation, all right? Chochkies is wrong. Doesn't it bother you that you have to get up in the morning and you have to put on a bunch of pieces of flair?
Joanna: Yeah, but I'm not about to go in and start taking money from the register.
Peter Gibbons: Well, maybe you should. You know, the Nazis had pieces of flair that they made the Jews wear.
Joanna: What?