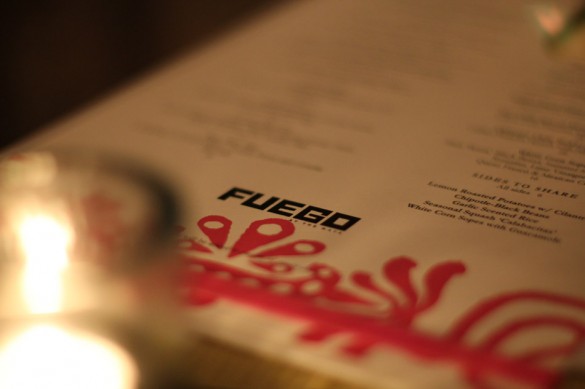 This summer on a press trip for OCMETRO & OCFAMILY, Kristen and I got to stay at Hotel Maya in Long Beach. Part of the all-inclusive stay was a dinner at Fuego, the in-house restaurant boasting the largest selection of tequila in the region with more than a couple signature drinks.
As we sat oceanside for our dinner by tea light candle our conversation drifted to the amazing view of downtown Long Beach and the excitement of the upcoming meal. Salmon and fiery scallops were the plates of choice, with a guacamole trio to kick off the evening … and a couple of cocktails of course.
Not being a fan of guacamole in the least, my reluctancy to try the dips was on high, but the chips were too delicious to not give them a sample. Much to my surprise I actually liked 2 of the 3. Now amped up for the entrées to come we slowly picked at the chip crumbs not wanting them to end, but the seafood delights were coming to the table and were ready to dwarf the flavors of the starter. Fork to flakey grilled salmon and into my mouth and the heavens sang. Still to this day, one of the best grilled salmon dishes I've ever eaten. Just the right amount of spices to not overwhelm the fish and the perfect doneness to please my palette. Leaving me with a slight burn on my taste buds, we ordered one last round, contemplated ordering a table hookah and sat with good conversation and an unforgettable (because I have pictures of course!) view.