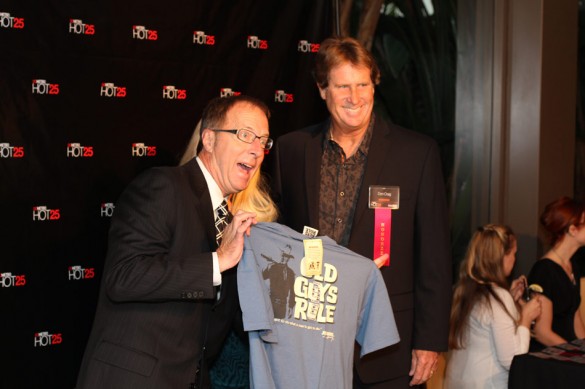 Every year for 21 years OCMETRO hosts it's picks for the region's hottest 25 people. Tonight, literally, was the first year of trying a 360° approach to the presentation with a round stage, the first year for staging with DPS and the first year for many of the companies new employees. Smooth as ever, the event went off without a hitch. Huge credits has to go out to Anna Romiti and Katie Jonegeward of RipeOrange who put the event together for Churm Media. They were also the ones who hired such fine photographers as myself and Brandon Jaime. Awards were given, drinks were had and socializing/networking was exchanged. Successful event? I say, without a doubt.
In this photo you can see the lighter natured side of Churm Media CEO, Steve Churm, with Don Craig, the founder of "Old Guys Rule". Don was nice enough to bring this shirt for Steve to keep as a memento of the night and a thank you for recognizing him as one of the prestigious 25. I can only hope to be that cool when I'm an "old guy"
Congratulations to this year's Hot 25 honorees.
Camera: Canon T2i
Focal Length: 50mm
Shutter: 1/60
Aperture: f/4.0
ISO: 400