At my current day to day job I use this technique religiously. It's fast, easy and extremely effective when trying to achieve better quality photos for print and online. In the following Adobe Photoshop tutorial I'll walk you though a quick (less than a minute once you learn the steps) process on how to brighten up those dull, dark photos you've been sent from your clients… or in my case, taken with your poor digital camera.
The following tutorial was done in Adobe Photoshop CS3, but 80% of the process can be used on just about any program with a "Levels" function (such as the freeware, open source image editing software, GIMP) while the last 20% can be done all the way back to Photoshop CS1 (this is the black overlay feature achieved by holding the 'option' or 'alt' key in levels).
» TIP: IT'S ALWAYS GOOD TO MAKE DUPLICATES OF YOUR LAYERS IN CASE YOU NEED TO GO BACK IF YOU MAKE A FATAL MISTAKE.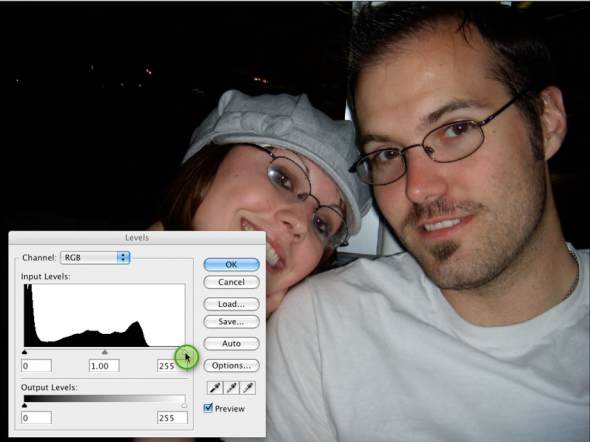 Step 1:
Open the file you wish to adjust and open the Levels adjustment window » SHORTCUT: COMMAND+L (pc users: CTRL+L). This will bring up your image's histogram and the palette where this tutorial will focus. Locate the white point slider as seen above.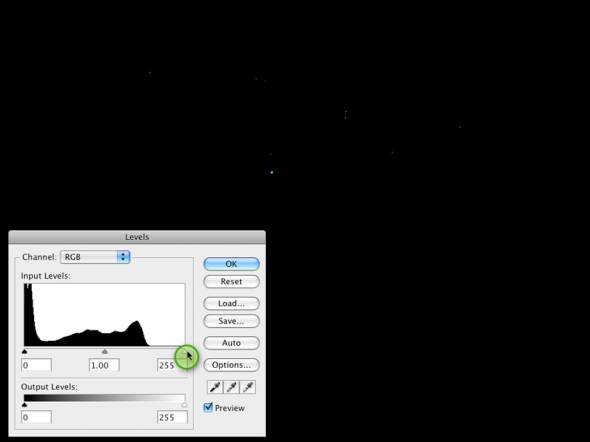 Step 2:
One of the best features of this tutorial is built right in to Photoshop CS1+. While on the white point slider, press and hold OPTION (pc users: ALT) and begin scrubbing the bar left and right. This will give you a black overlay over your image. If you're using an older version of Photoshop or a different program you can skip to step 4.
» NOTE: THIS FEATURE WILL ONLY WORK IF YOUR IMAGE IS IN RGB MODE.
» TIP: USING ADJUSTMENT LAYERS IS A GREAT WAY TO INSURE THAT YOU DON'T RUIN YOUR ORIGINAL FILES. THIS IS CALLED "WORKING NON-DESTRUCTIVELY". IT WILL ALLOW YOU TO KEEP YOUR ORIGINAL FILES INTACT FOR FUTURE PROJECTS, OR TO RETURN TO A PREVIOUS STATE IF YOUR ADJUSTMENT LAYERS AREN'T WORKING FOR YOUR DESIGN ANYMORE.