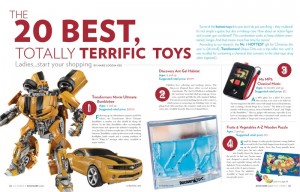 Title: 12-07 Cover Story Layout Spread
Client: Churm Media, in association with OC Family Magazine & Inland Empire Family Magazine
Program(s) Used: Quark, Photoshop
Time Span: 4-5 Hours to completion (entire layout (8 pages))
About: Every year Churm Media puts out it's annual issue in OC Family & Inland Empire Family Magazines. This year was the "20 Best Totally Terrific Toys". Yes, I know, that's two too many adjectives, but what are you going to do? What client wants, client gets.
Designer Notes: This entire layout was quite the piece of work for photoshop clipping masks! Boy do i love still having to be lulled down by the back and forth of Quark to photoshop… when will they learn that InDesign is the bridge between that gap! But, what doesn't kill us as designers, will make us always remember the golden rules…. never, EVER, EVER use Papyrus in your designs. You have (or should have) and entire library of fonts, GET CREATIVE! And also, learn from our clients blunders. By the time i finished this layout i knew the intimate ins and outs of the photoshop pen tool. I even "took it out for a romantic seafood dinner… and never called it again!"
Champ Kind: I will take Dorothy Manstooth out to a nice seafood dinner and NEVER call her again!
Wes Mantooth: Dorothy Mantooth is a Saint!
Ron Burgundy: Hey, let's leave the mothers out of this.