TO SEE HOW THIS WORKS: Visit the previous post. Please visit and feel free to participate any time.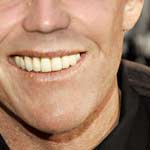 Artist: Luke Hodsdon (e-mail)
Title: Graphic Designer
Company: Churm Media (link)
Artist Comments/Picture Title: "Have you read the cabala son? Let me show you the ways of jesus, Buddha, and jehovah. Just tie this red string around your wrist and stare into my teeth!"
To see more Bingo Bango! Visit The Vault.