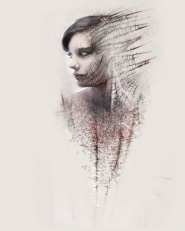 These images just happen to be a VERY small portion of what this artist has to offer on his website. They just ended up being my favorite of his series, which is a VERY tough comparison with so much captivating artwork.
With one of the sickest portfolio design websites i've seen and some killer artwork, Arnold Gustavo Lopez Mañas is by far one of the most talented artists i've seen. His style reflects the type of art and visuals that muse me and drive me to create. Great find thanks to Why Me? via Pristina.
Surely to become a frequented artists page that i keep up to date with!
In a different series, pictured below, is hands down my favorite piece from Mañas. Must be those birds. HA!